Shootup.io is a zombie shooter game. You find yourself stranded in a mysterious town. Bad luck, it's infected with zombies. There's only one solution for you... SHOOT'EM ALL!
HOW TO PLAY
Build a base or squash the zombies with your vehicle. Team up with your friends or fight the other survivors. Unlock bonus, ammunition, turrets, landmines... What's your high score gonna be?
ZOMBIE WAVES
You must eliminate the waves of zombies that are chasing you. The more zombies you kill, the more numerous and powerful they will become. Make the right choice of upgrades to keep challenging them!
ZOMBIE BOSS
Boss zombies sometimes appear in the zombie waves. They fear spikes and do not use all your ammunition on them. A simple gun and a little patience will defeat these monsters.
PLAY WITH YOUR FRIENDS
You can team up with your friends by sharing the link on the button "Team with your friends". That way, you can't hurt them.
TIPS
Don't get too close to them, or they'll attack you
If you shoot or enter in a car, zombies will hear you and will chase you
Find items on the ground or by destroying houses
Each 100 zombies killed, you can unlock an upgrade or a new building
If your car is stuck, remember to drift (Shift)
Be sure you have enough oil to drive a car
If you don't shoot for a certain time, zombies will stop chasing you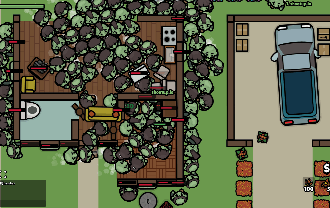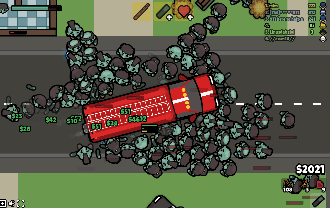 Controls - You can change the commands on the Settings Button
Movement: WASD / ZQSD / Arrow keys
Shoot: LEFT-CLICK
Place a Building: RIGHT-CLICK / B
Interact: SPACE
Run / Drif in car: SHIFT
Change weapon: NUMBER / CLICK ON IT IN THE INVENTORY / MOUSE WHEEL
Change building: CLICK ON IN THE INVENTORY
If you like to play with your friends, you might also like
Taming.io
,
Witz.io
or
Golfroyale.io
. But if you want to fight against other players you might love to play
Sploop.io
.