Sploop.io is one of the best village building, crafting and PVP game. The PVP in this game is very easy to learn but it is really nervous and requires a lot of skills to be the top 1. Hopefully you can make a team and play with your friends to crush your enemies and the many animals in the game.
Craft and Upgrade
You must collect resources to gain experience and build an unbeatable fortress. With the experience you gain you can then unlock new and more powerful weapons, as well as special buildings to make battles more interesting. To gain resources automatically you can place windmills, but you can also beat huge bosses that will leave treasures behind.
Play several times and discover all possible upgrade builds and try to find the favorite build strategy that fits you best. Will you decide to use traps, turrets, spikes, or will you prefer to place buildings that use more to optimize your harvest? There are many possible strategies in Sploop.io
Powerful gears
An important element in this game is the purchase of equipment with the gold you collect during your game. This equipment can completely change the way you play the game. Wear a war mask to do more damage. You want to pretend to be a bush to surprise your enemies? Want to become an invisible ninja? Try every imaginable combination of equipment. The number of combinations is unlimited.
Build a Team
Everyone knows that there is strength in numbers. Sploop.io is no exception to this rule. Fortunately, if you don't have many friends, it's very easy to join a team. Just select the team button on the top right and ask to join a team, there will be one that will accept you. But maybe you would like to be a leader? Then it's up to you to create your own team.
Clan wars are an essential component of this game, cooperation is very important. Will you decide to be a loyal person, or will you decide to be a traitor to defeat your worst enemies?
Bosses and their treasures
Face incredible bosses alone or in cooperation like dragons, mammoths, octopuses in this game. These bosses always protect an important treasure. Thanks to these treasures you can buy skins and accessories that will obviously make you cooler than all other players.
Ranking
As you play, you can also climb the leaderboard and get badges that will make you more powerful than other players. There is a leaderboard for almost everything in the game. You will be the best in at least one of the categories!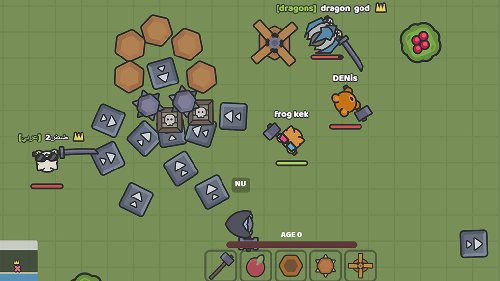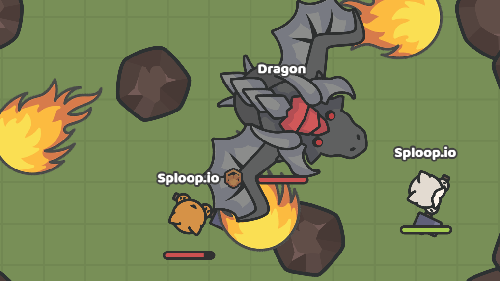 Controls
Movement: WASD / ZQSD / Arrow keys
Hit: LEFT-CLICK
Auto-attack: E
Food (used to heal): Q
Spike: R
Lock Rotation: X
Grid placement (when you want to place your building): H
Chatting: Enter
Change item: CLICK ON THE INVENTORY
If you like the craft and the upgrades system of this game, you might also like
Taming.io
which is a similar game but with pets! Or maybe
Shootup.io
but with zombies this time.