Taming.io is a survival .io game with magical pets that fight by your side. Harvest resources and unlock upgrades as you age. Craft items, build a base, and battle other players and their pets to become the savviest survivor.
Craft and Upgrade
Collect resources to craft your village. Level up to unlock new craft and weapons. Place windmills to generate gold. Tame animals and make them evolve in epic battles! Collect golden apples in chests to custom your character and pets. Waste no time getting started. Start building your fortress and fortify it with walls and turrets. One of the most important buildings to unlock for your base is the windmill. This structure generates gold for you automatically.
Tame Pets
Each pet has a special ability, with its weakness and advantage. Fire, Plant, Water, Electricity, Stunt, Damage, Repulse, Regen ... Choose your pet to get started and tame new ones in game. Build your army and fight other tamers!
Build a Team
Since Taming is a multiplayer .io game, plenty of other gamers share the world with you. It's a good idea to get friendly with some of them to make a team. Doing it alone will be more challenging as you face other teams and higher-level players who will dominate you.
Features
Fight magical battles with other players Tame wild animals to fight for you Collect various resources Build and fortify your base Unlock more rewards as you age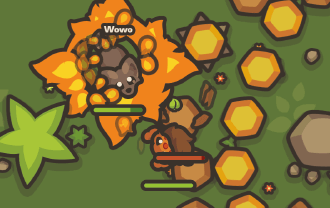 Control your pet
Shield button: The pet protects you
Sword button: The pet attacks every animals it sees, except sleeping babies
Hand button:The pet will stop following you and keep its position
Skill button:The pet use its special ability
Controls - You can change the commands on the Settings Button
Movement: WASD / ZQSD / Arrow keys
Hit: LEFT-CLICK
Change item: 1, 2, 3, 4, 5, 6, 7, 8, 9 / CLICK ON THE INVENTORY
If you like to play with pets, you might also like
Tyran.io
or
Dogod.io
. You might also like
Sploop.io
which is a very similar game with a more nervous PVP (Player Versus Player).